Polycarbonate Roofing
Perfect choice to create a covered area within your garden and backyard with the benefit of UV protection.
Polycarbonate roofing has the ability to reflect more heat across the entire ultraviolet light spectrum, instead of just the portion that provides visible light. We make sure our polycarbonate roofing meets global stringent standards, which will endure harmful UV rays, hail damages and suitable for high wind areas.
Wherever you go with Polycarbonate roofing for your garden, you get a stylish and modern makeover on top of protections against UV rays and thermal insulation. Most often polycarbonate is used for skylights and awnings to bring the best out of both worlds. With an extensive range of options, color and profile we hold, we are confident you will be able to get the perfect piece of polycarbonate roofing for your garden.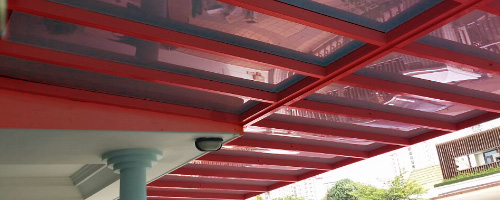 They are always the first choice when residents tend to build awnings for the porch and garden. For the price you are paying for and the customization you get, polycarbonate roofing is as durable as other roofings in the market. Every piece of our polycarbonate roofing is engineered to be durable with least maintenance. On top of that we offer different thickness to suit your needs. All in all, polycarbonate roofing is very customizable to suit your needs.